"Thanks for your knowledge sessions on the last few Fridays. Impressive to see how you can show so much about customer journeys and its related data analytics within just a few hours."
"Strenghts
Quintus is a pioneer when it comes to data exploration. He possesses the needed courage to work on new data sources and deduce new insights. Filled with enthousiasm he tags his colleagues along and he actively shares his knowledge with others. The way he does this is by preparing IT changes carefully, so that his colleagues have more benefit and easier access to the relevant data.
Opportunities
Quintus has a lot of knowledge and expertise, and from time to time he wants to transfer this information all at once to others. This may confuse others that get lost in the many information or in too much details. When he puts more focus on the changes with bigger impact, this will help add more value for his team and eventually the financial institution.
Overall Working together with an expert like Quintus is very valuable for his coworkers from IT. His detailled knowledge and experiences with data are helpful during development and (I, red.) hope that he continues this co-operative path with IT and support in the delivery of solutions."
"I experience you as someone who knows what he wants. You have an eye for talent and you aim for your goals. You have a positive attitude towards life and you attract likewise people and situations. The expression 'Whatever the mind of man can conceive, it can achieve' suits you completely. I can and want to learn from someone like you. You have an entrepreneurial mind and you're reliable. A nice combination. 'Whether you think you can or you can't, either way you are right.' Kida!"
– Jan-Sebastian van Setten from Rotterdam, Actor
"Quintus is a good friend of mine. Though we do not get to meet as often as we like but whenever we meet, we continue from the point we left. I met him first time in NL then he came to Switzerland twice. We had great conversation. He is a very intelligent and smart guy who knows how to entertain their guests. Meet, host and be hosted by Quintus and you will never regret it!"
– Umer Durrani from Switzerland
"Quintus is an intelligent and successful person with a heart of gold. We met each other as friends, when the both of us were still studying. He was studying econometrics and I applied mathematics. He is very knowledgeable about his expertise and very adept in everything he does. Besides that he is very driven to bring himself to the next level, personally, intellectually, physically and business-wise. The passionate way he does that is very inspiring and contagious. He has inspired me as an entrepreneur. He understands very well what his clients needs and instead of just doing a sale, he knows that it's all about delivering the highest possible value. I've learned a lot from Quintus as an entrepreneur. He has a passionate drive and implements the things he has learned immediately. We now form a MasterMind, where we teach each other, give feedback, change ideas about our professional and personal developments. Beside being a true winner, he also is a loyal and valuable friend."
– Chi Lung Yung from Voorburg, Business Intelligence Consultant at ING, author of Effectivichi
"Thx Quintus.. you saved my life! I was in trouble when I came to Amsterdam and Quintus has helped me quite naturally. He has saved my vacation :) I had the great pleasure to spend with him a very nice evening, and to "surf at his couch". Thanks to the nicest Dutchman I know! Big hug."
– Manuela from Lint, Austria
"You still rock! (you can quote that)"
– Joana Chung from Ridderkerk, Librarian
"My compliments for your home page, and the way you've written the main text. You are always full of good ideas."
"In the short time I got to know Quintus he really impressed me by his open mindedness and willingness to change. And it's change which gives you the opportunity to grow... Furthermore he carefully listens and analyses. And you know 'Cynics Criticize, and Winners Analyse'."
– Casper Camps from Woerden, Multi-Level Network & Internet Marketing expert trainer
"I know Quintus for a few years already and he is really a person with whom you can have excellent brainstorm sessions, someone who actually wants to help you succeed - whether in business or in private life. I know for sure that I'll benefit from his creative ideas and help for the coming years."
– Aytac from Rotterdam
"Quintus has that true entrepreneurial spirit. No limit."
– Peter Dijkstra from Rotterdam, Interim Energy Trading Lawyer, Interalegal.eu
"Q is indeed very good for you! ;) He is a young, ambitious professional and I had the pleasure working with him several times. He's multi-talented and always knows what he is talking about. With my own eyes I saw him helping out some men, who really transformed and are living a better life now! He really cares about other people and is very passionate! I look forward to working with him again in the future and would recommend him to anyone."
– Jamel Aattache from Rotterdam, 'Fighting Fish' Movie Director and professional Commercial Film Maker, Three Kings Productions & Video-testimonials.nl
"It was really very nice working with you Quintus.

Right from setting up the business value for the POC to helping us in being aligned to the business case to setting the expectations right with the product owner, you helped us in every aspect of the POC. (You also made me feel embarrassed by fixing the namespace issue for the queries I was stuck with :) )

Also, the relationships among the data you created (the excel sheet) helped us immensely in translating them to MarkLogic triples.

We asked you a lot of questions and at times the same questions many times and you had all the patience to explain again and again. Thanks a lot for that.

I saw real business-IT collaboration in this POC and am happy to have worked and learnt from you. Over the last weeks, I think we made a lot more progress than the initial weeks and am more comfortable now to say we all did a decent job.

Honestly, you have an in depth understanding of the business as well as aptitude to try out various MarkLogic features.

Hopefully, one day, we work together again."
– Vamshidhar Vutukuru from India, Lead Consultant at Capgemini
"Quintus is a guy with Passion, capital P. Meeting just once is enough to spark enthusiasm, not enough to know the depth of Quintus. I really hope we can continue our conversation soon. And so will you, once you've had a chance to meet Quintus."
– Louis Broekhuijsen from Gouda
"Very positive! It was really nice meeting him. He has lots of interests and stories to tell. And he really knows a lot about the wonderful city of Gouda. A shame I only had two days!"
– Cheryl Springer from Emmen, Switzerland
"Quintus is a cool guy. I met him on a CS meeting in Gouda. It was the 2nd Gouda meeting and it was a very nice one! We had a great conversation about travelling and hypnosis."
"Quintus in his casual role I knew already, but finally on a day in December I got to know Quintus his business skills as well. He performed a lecture after which he asked me to write a short piece about him. I'm Ralph Zantman and this is what I have to say.
Quintus is really an enthusiastic and ambitious guy. As I've learnt he knows a lot about financial markets and how to let money work for you, instead of you working for your money. In a chat with him afterwards I saw, that although his knowledge is adequate he's always on the lookout to improve himself. When you talk with Quintus he really connects to the subject in hand which makes him a nice partner in the conversation. He's a two way street, if you help him, he will help you. The little criticism I gave him, would be his representation. He should be more confident about himself and put that into the way he stands in front of us. Also he should think about his choice in clothing, hairstyle, words during the lecture and what he wants to send out to his listeners. Doing that makes him an even better and more focussed speaker. But overall, I take my hat off; He's doing well, very well!"
– Ralph Zantman from Rotterdam, professional photographer at RalphLaurenZ Fotografie
"I met you without having time to give you as you really deserved it... Between jobs, we met with friends and you gave me the Tango... Funny, huh? I won't say how crazy you are, the only thing i would say is that I would have loved for you to stay longer... or maybe meet me on the states... Who knows? Thank you for your laughs, you are a good hugger... love that! Hope to meet you someday soon! With some of my heart..."
– Ceci from Montevideo, NePlusUltrafilms
"Quintus is a very simple gentleman. I had an opportunity to meet him in Boskoop. I really enjoyed talking about business & economy. He is into finance & banking. He is very down to earth. Overall it was pleasure to meet him. Hope to meet him in my country. Best wishes."
– Paddy Pradeep from India
"I think of Quintus Hegie as being goal-oriented and focussed. He has a great passion for what he does and enjoys achieving to a high standard. I found him to be polite and well-spoken, able to interact on all levels with people of all ages and different backgrounds. I wish you all the best with your pursuit and hope you achieve your dreams. The next Donald Trump!"
– Elly Venema from Australia
"After meeting Quintus at the OpenCoffee meeting in Rotterdam I got very interested in his prior experience and history. His presentation and calm approach to the conversation made me wonder... where does he come from and where's he heading. His profile (but most of all his acts) say enough for me. This guy is not only intelligent but wants to make a ripple in the pond as well and has a good idea how to do it! It seems his focus right now is on collaboration for his projects... so... I suggest you inquire on his goals and projects immediately!"
– Hans Dekker from Rotterdam, Strategist, Innovation & Technology in Media and Culture
"His biggest contribution was he solved a really big problem that existed for already 3 years in no time. The problem was system oriented. He just developed an system which worked better than existing ones. The speed he solved really complex matters was impressive."
– Charel Hakkert, Energy Trader, ENECO Energy Trade
"What he lacks in modesty he more then makes up for it in warmth, drive, confidence and playfulness. A swashbuckling captain on his ship, sometimes veering to the left, other times to the right, but always stand fast in crossing the ocean and reaching his destiny."
– KJ from Amsterdam, Master Hypnotist at Meijer Mind Strength
"Quintus Hegie is a consummate professional at all times in every capacity. He is very articulate, knows what he is talking about and inspires you with confidence from his never ending supply of it. I look forward to working with him in the future and would recommend him to anyone."
– Harry Lal from London, England
"Hello Quintus... I came across your blog post today. It was love at first 'site'...;) I'll post it here for others to read. Brilliant and right up my alley. So nice to meet you!"
"I think you're a Superstar."
– Jorien Dullemeijer from Rotterdam
"Quintus is best described as a beautiful weird bird; a kind of Pino (N.B.: do you know this bird? It's the big blue bird form Sesame Street). He is intelligent and has a broad scope of interests. I have seen him wrestling to find his role within the company and with the balance between work and private life. His power lies without doubt on the technical area; in no-time he has showed a few solid pieces of modelling work for example. But Quintus wants more: entrepreneuring and building an international network. And if that comes into conflict with the work at ENECO, then it is ENECO that has to move. I have much respect for that. Quintus is someone who is not afraid to make his own choices. Therefore I wish you much success in finding your own path and I am very curious about where it will bring you."
– Mark Belloni from Rotterdam, Risk Team Manager, ENECO Energie
---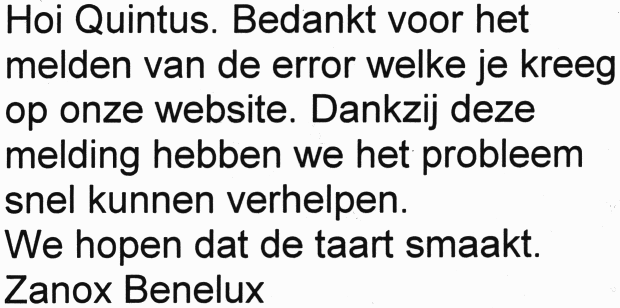 ---
"Ha Quintus, I'm deeply impressed about your website. Good layout overview. When I think about Quintus, the words innovation and mutual integration."
– Pierre Mellegers, Management Development at ENECO Energie
"The charmer... Full of surprises, good ideas and beautiful plans. Inexhaustible... Romantic... And always purely himself. Sometime vulnerable and strong because of this. But the most beautiful thing is... that I can be my unbelievable self near him."
– Mirthe de B. from Utrecht
"Q is good for you? I would suggest to find it out. Quintus has got such a great personality and I loved it to talk with him. we just had a great time here in Zurich and I skipped sometimes my sleep and studies to have more time to do something with Quintus and his friends."
– Dama Ducky from Zürich, Switzerland
"Quintus is a person that I have known well for years. We studied the same courses. I know Quintus as a versatile person. He is a very motivated, ambitious and entrepreneurial person with a lot of creativity in the subject of studying.

Quintus graduated recently and he started several businesses. Quintus is very social, very helpful, confident, enjoyable and fond of sports. Quintus has helped me several times with assignments where I used to have a lot of trouble with. Although Quintus is a very entrepreneurial person and he has ample time, he knows to make some time to help his friends where needed. He's a person that likes to help others, and who takes the time and effort to explain things and help someone further. Quintus is also someone with a wide orientation; he's a person who has much interest in people from different backgrounds and religions. He is a person that doesn't judge people on their skin colour or origin.

I practised sports with Quintus several times. He knows to stand his ground in the area of sports. But it has to be said that Quintus has to train a bit more if he wants to beat me with a game of squash ;)

His friendliness, creativity, ambition, and eager to learn make Quintus a special person as a friend or colleague."
– Jaouad el Allaoui, Quantitative Finance Specialist
"Mr Quintus Hegie, thanks for an insightful and informative newsletter once again! I love your no-BS approach to getting things done and this is the same approach I use in my newsletters."
"DatingDoctor®, Master Hypnotist (where did you complete your training!? In Las Vegas with Mark Cunningham?!), building websites, completed a meaty study in Econometrics, travelling, much knowledge about self-development. You are a very intelligent, sensitive - do you know the book about HSP? see www.hsperson.com! - chap.

What I especially admire is your courage to do things, even when you are not very good at it yet. Daring to fail, exactly what I am talking about. This way you learn the fastest!

Unbelievable that you're still that young."
"Quintus turned out to be a type V, Analyst personality when he turned up in one of my Enneagram workshops. Most suitable for a data analyst, I think. Quintus had a strong presence and participated lively. Someone I can recommend wholeheartedly."
"I've known Quintus for some time now, and as soon as you start talking to him, you see right away that this is a guy you can talk to for hours about anything. He's very 'real', he is brutally honest, kind-hearted, and open-minded. He won't lie to you, and he won't sugar coat the truth either."
– Mike Levatan from Montreal, Canada
"If I had to describe Quintus in one word, I'd say 'busy'. This word sums up his ambitious and entrepreneurial character. His straight-forwardness can be confrontational at first, but once you get used to it, the way he acts makes you think. Why do we do certain things? Is it really necessary to do that, or does it come from the idea that it is necessary? What can be learnt from him is that avoiding what some people would call 'bullshit', you can be much more effective with your life. Creating more opportunities to make you a better person."
"Quintus stayed with me in Switzerland for a few days and it was always very inspiring to exchange ideas and emotions with him. I strongly recommend to give him a chance in whatever he would like to suggest. If the world would have more business people like him, we would be close to enjoy life at its fullest even in the business world."
– Dr. Christof Hanser from Switzerland, Managing Director of AMANA Chemie- und Medizinaltechnik GmbH
"About the experience of hypnosis: First I had to sit on a chair, with my hands on my knees. Quintus told me that I had to relax by giving specific instructions. That worked stupendously fast and immediately I was in a kind of state of sleep. Everybody knows that state, like you do not need to set your alarm clock and you're just waking up. You experience all of it, but actually it also passes you by very quickly. Even while your body feels sedated and unable to undertake any activity, when you give a clear instruction, then suddenly you regain the control over your body again. But you don't want that to happen. Because it feels delighted this way, as if your body is turned off for a moment. It made me think about a time I was stoned, my joints felt without friction and all is fine. After that Quintus did an relaxation exercise with me and he made me able to relax easily by pushing a fictitious button on my shoulder any time I would be nervous. For one thing this button was activated by sending all relaxed moment of my life through my arm into my hand, creating there a kind of sphere of memories. I wouldn't be serious about this suggestion in waking state; memories do not have volume and thus they cannot assemble in your hand. Period. But now I went along with it and all was just fine. If you say so, then I agree it's fine to me. This (hypnotic) experience was very pleasant to have had."
– Stella Houwing from Rotterdam, Student Psychology
"Quintus is someone who always tries to get the best out of something. He works really hard for this. He is able to focus completely at one task. The last few years Quintus has become more expressive, something I see as a good development. This development also accounts for the fact that he doesn't portray any shyness. I would rather call him courageous."
– Quirijn from Rotterdam, Quantitative Finance Specialist at Rabobank
"Hey Quint,
you really are the man from whom I can learn indefinitely. Great guy, with a hearth on the right place. I hope your hearth doesn't break that many hearths of others. Take care."
Clarence Reckerts from Amsterdam, Business Analytics Consultant at Ministry of Economic Affairs
"Hi Quintezz!! The hypnotist who removes limitations in someone's head, because that is what do ;-). I feel very good, I feel different; I feel blue ;-). Besides you're a person that is simply chill, and with whom you can have fun. Integer and yet also a bit secretive. When I'm around, than we'll definitely go have a drink; clubbing promised. Ciao."
– Jan from Hoorn, IT Specialist
"This was the first time I've experienced a hypnosis. This experience was very exciting, relaxing and new to me. As I was put into a very calm state, I began to focus on the voice of Quintus. He was constantly paying attention and talking to me on a calm way. I felt I could trust his voice completely and I felt pretty confident. My objective was to gain conscious over my ability to remember. For my weakness is to absorb written information. Quintus suggested I can do otherwise. I believe this has helped me to be aware. Therefore, I thank Quintus for being a trustworthy person and this lovely experience."
– Joana Chung from Ridderkerk, Student Social Sciences
"Q is good for you? I would suggest to find it out. Quintus has got such a great personality and I loved it to talk with him. We just had a great time here in Zuerich and I skipped sometimes my sleep and studies to have more time to do something with Quintus and his friends. A few months later I had the change to meet him again in Amsterdam. I enjoyed this time as well a lot. But the best thing about Q is, that he's a real true friend. I just met him twice, but he's bothering for me and my wishes in a way not many people would do. A big, big thank you for Quintus. I really owe him a lot."
– Dama Ducky from Zürich, Switzerland
"Even though we met for only a short period of time, what I can say about Quintus is he sure can talk! He's the kind of person that can talk for hours, he commands and draws attention, yet displays such sincerity. It's hard to not learn and be inspired by his ambitions and knowledge. Cool guy, cool times."
– Ken from Manchester, England
"Like everyone else with a website we thought that we did it right. From our viewpoint good information. The number of visitors were reasonable with a low conversion. Quintus Hegie gave his cutting edge analysis and the decision making thought for change to guide visitors through our website and in this way transform prospects into clients. I seriously recommend this man."
– Tom Richmond from Leiden, Dubbelresultaat
"You are without doubt the most unconventional man that I've met in a very long time."
– Anke from Amsterdam, Kamasutra Actress
"Oh yes, the sex-hypnotist lights up the best out of you. Works well with women, by the way. They have to feel good and safe firstly..."
– Verveine Fontijn from Amsterdam, Blooming Amsterdam
"I got to know Quintus as an energetic, creative, humoristic and extrovert person who doesn't take no as an answer. Your ambition and persistence are clearly noticeable in your actions. Because of that you may sometimes appear to go just a bit 'too' fast and you won't be stopped easily. That could be a point for improvement. However, you gave us many new ideas and insights, and your program codes looks perfect."
"Quintus Hegie is a young Professional with a positive attitude and very willing to help his colleagues in good team spirit of attributing to the company's greater good."
– Tjalien Van Zelst, Independent HRM Recruiter
"You are totally right, Quintus."
– Ken Hennessey from Portland, Orlando
"Quintus's self-esteem is boosted again: he obtains high scores in the Financial Literacy test I had him fill out. That indicates he knows what to do with money, which is not a bad qualification for a risk analyst... He also knows how to earn money, following from the publishing of his co-authored book. First and foremost, he is a very good colleague. If you would like to know more about financial literacy, please listen to this podcast. For booking the cheapest airline tickets, please visit vliegop.com!"
– Pieter Meulendijk from Rotterdam, Risk Analyst
"Quintus Hegie, is a brilliant young individual who is multi-talented and self-motivated. He excels in motivational theory and self-development, able to motivate individuals and forge new relationships. He is a well liked person, who can adapt to various situations. I believe he will be an asset for any potential employer / organisation."
– Zee from London
"I consider Quintus as someone who is dedicated to people, ready to help. A guy with a strong and outgoing presence. Direct and self-assured he takes command of the situation, with compassion, enthusiasm and wisdom. A good example of a person implementing a straight forward yet powerful living philosophy. Quintus, someone worth having met."
– Richard John from Eindhoven
"I think that when Quintus enjoys something he goes for that with full focus. I think he's very eager to learn... works well and hard... [and] is loyal to his job."
– Sacha de Ridder from Bodegraven
"The name Quintus is for me: new, unique, interesting, fascinating. The person Quintus as I know him now, is as his name. At first glance he looks tough, serious, a bit confused, sometimes floating around in thoughts and cute. When you get to know him you realize he is also very kind, playful at times, straight to the point and clear about his goals."
– Randy from Rotterdam
"Since I met him my life has become a lot more fun and enjoyful, especially because we think and act very similar. We differ almost 20 years in age but that really doesn't matter. I learn from his youthful unprejudiced intelligence. At the same time he learns from my experience and wisdom, both I share with great pleasure. Because he is someone who'd rather give than take, he makes new contact with people easily. Those who take the effort to seriously get to know him know to appreciate his honesty, enthusiasm and loyalty. I'm glad that I've met him, and I hope that our friendship may last for length of days."
– Frank from Vlaardingen, Fitness and Health Instructor
"The first time I met Quintus, I was a little bit sceptical, he was always having fun, teasing girls, not caring about the outcome, but his frame was VERY strong. First I thought he just wanted to tease people, hoping that he'd get some attention. It was only LATER for me to find out that I am dealing with some person who is NOT like other people! You're dealing with a man here who has a passion, a passion not only to look behind things, but also a dedication to get to the next level and to invite anyone else to make that move too! He'll never settle for anything less or let anything stop him. He might look a bit silly, but don't ever be deceived by looks! He's a very intelligent man: cherish the moment of having the opportunity to talk to him!"
– Matthew Song Loong from Leiden, De Relatieschool, selected for The Architecture Annual 2004-2005
"Q is a great man in many ways. One being his ego (just a bit smaller than mine), among others are his commitment to his friends, his attitude towards life and the fact the he makes not being completely sane a good thing. I have known him all my (and for that matter his) life and I consider him the best friend I will ever have. Over the last 10 years I've seen us as two friends who help one and other whenever we need it, and I see us doing so for the next 20 years at least. Q's joy in life is not only something that everybody should use as an example but also as something that has inspired me to think more relaxed about life and it makes me just enjoy every second of it."
– Marc from Rijswijk
"You are a person full of initiative! Very particular. You are passionate and a go-getter. I have the feeling [that] you get very far with your proper coaching."
"Quintus, you are the best!"
"Quintus is one of those rare individuals who has a real feel for the changing ways of the world in the 21st Century. The first time I met Quintus, he surprised me with his ability to think over and discuss about just about anything, and we became fast friends. It was a pleasure to have him visit me in England later that year, and I could see the dedication he has put into improving himself is continually paying off. To some, Econometrics might appear like an abstract and hard to understand subject, purely about business, but he has a real passion for it that makes it live and breathe in the real world. What underlying fact makes all of this happen? He is a genuinely cool guy."
"I have to really thank Quintus. Before meeting him I considered myself a sociable guy, but I couldn't talk to attractive women. I could build report with people with big social backgrounds from all walks of life, but I couldn't even ask an attractive woman for the time! By the end of one day with Quintus, I could talk to attractive women and even get numbers! The best part of his help was developing my believe in myself, showing me that the only thing that was stopping me was myself. THANKS QUINTUS!"
– Mark O'Neill from Manchester
"I had the pleasure of meeting Quintus when he was on a trip through Switzerland and contacted our national lair. First and foremost I would say that Quintus possesses the number one trait you need to have if you want to succeed in flirting (and probably life) - never to give up your chosen goal and keep training and improving, no matter what odds are stacked against you. Furthermore, contrary to the many internet-addicts, Quintus is for real, going into the field and doing his approaches, escalations and closes."
"Quintus is my brother. His hypnotic skills made me very curious. I saw his hypnosis demonstration at a seminar in Antwerp. 'I want to try that too,' I thought. Today I asked Quintus if he would like to do hypnosis with me. He agreed, and asked me what I wanted to improve about myself. I told him that I did feel somewhat uncomfortable when going out to the club at night. I paid too much attention to the people around me, and found it difficult to relax and enjoy. During the hypnosis session I felt a bit odd at first to entrust myself 'to' my brother. I know him as quite another person of course. In the beginning while I was relaxing and brought at ease, I still tried to analyse with my brain what he was doing during the session. Further into the session I fell into trance slowly but certainly much deeper as before. After the session I started analysing again what happened. However, I tried to explain my experience to Quintus. As I did that I realized that I've been changed. I couldn't recall the 'problem' any more!"
– Xaviera Hegie from Gouda
"I see you as a happy man, who likes to keep things alive. I believe you're a bit stubborn so I can not always get good impression of you, but this is not negatively meant. With respect to how you work I have no idea but I have the impression that you like to think creatively and solution oriented."
"Hey Quintus! I am all happy with my new beautiful nails! Thanks again! Vy is very skilled in her expertise. I'm jealous about her patience and workmanship."
– Tilly de Vos-Verstraeten, Manager at ENECO Energy Trade, about the Afternoon Nail Art Party organised by Quintus
"Quintus, thanks again! The nail party was a great experience! Vy is very professional in the painting and placing of nails and it looks super! In no time your nails have a completely different look!"
– Maaike Hofman, ENECO Energy Trade, about the Afternoon Nail Art Party organised by Quintus
"Quintus is a great guy! very kind and interesting. I really enjoyed his company, a short but pleasant stay. He and his sister surprised me with a 5 star breakfast! And I even got a free tour in Gouda with the most delicious carrot cake! Would love to meet you again somewhere in the world! Don't forget to send me your book! take care"
– Débora Hanna Storch, CouchSurfer from Tel Aviv
"Go take his advise! Applies to all my friends!"
– Suet Huy Ho, about the Wealth Creation Seminar hosted by Quintus
"A strange guy who tells and applies the principles of wealth creation. Something for you?"
– Peter Overbeek about the Wealth Creation Seminar hosted by Quintus
"I'm going to be rich, but in the mean time I wish there would be more people like Quintus."
– Bas, Media Artist from Utrecht, about the Wealth Creation Seminar hosted by Quintus
"Quintus is a rich man, who can learn you to be that too."
– Chi Lung Yung from Den Haag, Business Intelligence Consultant at ING, about the Wealth Creation Seminar hosted by Quintus
"Good advice isn't expensive, proven once again..."
"A man with your mission! :)"
"This guy really knows what he is talking about, [he] is taking his business seriously - and isn't doing bad at all!"
– Bram de Bruin, Quantitative Finance Specialist at PriceWaterhouseCoopers, about the Wealth Creation Seminar hosted by Quintus
"The video and/or photos taken would give a nice visual impression. Basing a lecture on a book was a creative idea after all."
– Bjørn, about the Wealth Creation Seminar hosted by Quintus
"I worked with Quintus as a Risk Analyst at ENECO Energie on the trading department. Together we set up a Matlab® model to better quantify the risks. While I mostly have knowledge of the content, and Quintus mostly of the technical side, together we formed a good team, so we could deliver the model very quickly. Quintus distinguishes himself from other programmers by the link he forms between the business and the programming. This attribute, relating to the art of keeping the head cool, something that is not always as easy as it sounds on a trading floor, makes Quintus very valuable to work with."
– Pieter Meulendijk, Risk Analyst, ENECO Energy Trade
Endorsements for others
Some endorsements I have written for others listed below: